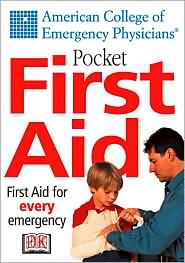 One day my daughter brought home from school a Red Cross checklist of emergency first aid supplies. There were some things on this list that I had not seen before so I went out to upgrade my first aid kit. I realized after returning from my local pharmacy (where they looked at me a little strangely when I purchased syrup of ipecac) that I had no idea what to do with these things. So if you're not already a doctor, a book on first aid is definitely a smart purchase. The title I chose was Pocket First Aid. The publisher's description of this edition is as follows:
Adapted from the most recent edition of the First Aid Manual, this pocket sized first aid guide is the only book available that is illustrated with photographs. Written in a clear, step-by-step format,
Pocket First Aid
covers many first aid methods, from resuscitation of conscious and unconscious choking victims, to how to deal with bleeding, shock, spinal injuries, poisoning, seizures, fractures, and bandages.

As for the syrup of ipecac, everything I've read says DON'T USE IT!